The adage that the current COVID -19 pandemic is unprecedented might sound like a cliché already. Nonetheless, it continues to be a reality that will leave its marks on the long foreseeable future. The overnight shift of gear that it brought about, will now become the new normal and will dominate the human world – from the way we work, buy, sell, transact to how we interact with the larger society.
What does this imply for brands and their connection with customers? It means realigning their customer strategy that focuses on unwavering engagement fueled by digital technologies. Here's a proof point. A report by Salesforce, titled 'State of the connected customer,' states that the quality of a company's engagement is as essential as the quality of the product or service they buy.
The report further shares that 54 percent of customers consider personalization, timeliness, and connectivity as the three fundamental pillars of an effective engagement strategy. But the question is how to create this personalized and timely connection amidst the deafening promotional noise in the market?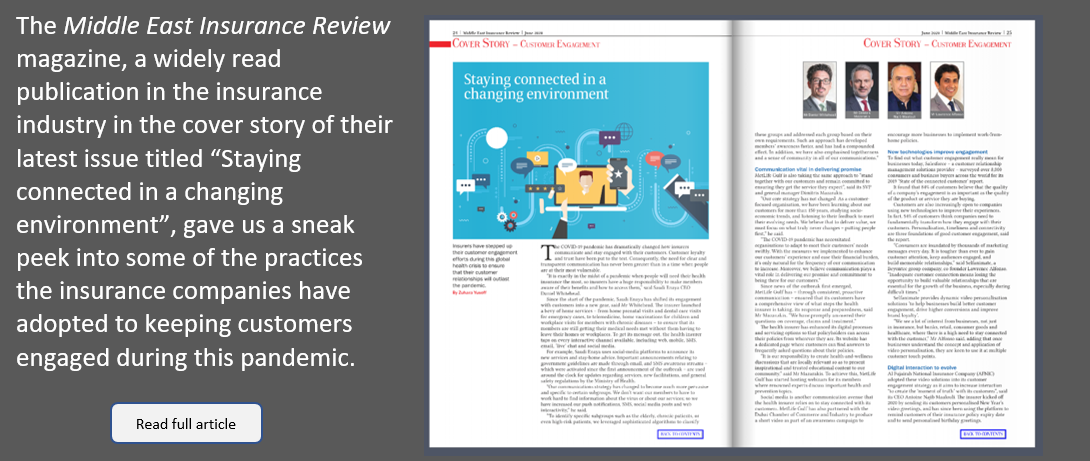 Be where the customers are
: Some of the insurance companies in the Middle East are setting good precedence on how to be available to the customers if they cannot come to you. They have resorted to 'home services' in areas ranging from prenatal home visits, dental care, telemedicine, home vaccinations for children, and ensuring that everyone's medical needs are met while they stay homebound.
Personalize offerings specific to subgroups: Health insurance companies have focused on an assorted set of audiences comprising the elderly, chronic sufferers, and even high-risk patients. Insurers in this space are leveraging sophisticated algorithms to classify these groups to address each one based on their specific needs.
Deliver with speed: Agility and on-time response to customers' needs are the biggest challenges companies face in this time of social distancing. How do you make sure that customers receive the necessary financial assistance with speed and efficiency in case of an emergency? This is where some companies lean on persistent communication to deliver on the promise and commitment they made to the customers.
Drive real-time conversations: Empowering customers with all the information they need and the preparedness to support customers when the need arises is another initiative taken by some insurers in the region. Building up the infrastructure to respond to customers' questions on claims, coverage, and treatment in real-time, insurance companies are creating adequate digital processes that allow policyholders to access their policies anywhere and anytime.
Personalize video messages: Another unique initiative adopted by insurers to elevate the quality of customer communication and improve customer loyalty is the use of automated video personalization. By delivering information on videos that are customized for each individual, insurers are creating that 'moment of truth' with their customers when they are most vulnerable.
---
"The 'moment of truth' we want to create must be personalised, while remaining professional…the videos are especially important during this period as customers are spending more time at home and performing their transactions online." Antoine Najib Maalouli, CEO, Al Fujairah National Insurance Company (AFNIC)
---
In the Middle East, many forward-thinking insurers have kicked off their digital-first efforts, led by video-based engagement, to make sure their customer relationships remain closely-knitted during and after the current pandemic. By using personalised visual communication through automated videos, they are staying fresh and relevant in the minds of customers. Selfanimate GoCampaign, our personalised video automation platform has been a natural choice for many insurers due to its scalability, reliability and affordability.
While the future in the post-COVID-19 phase remains fuzzy, what's certain is a radical transition to a virtual world – leading to a drastic shift in consumer behavior. Companies that can anticipate change and navigate disruptions using technology-enabled solutions, will be the ones that succeed – because they invest in their customers early and anticipate their behavior in advance.