The rise of Video Marketing
The pandemic has created havoc and hampered growth for most businesses. While they are adjusting their business continuity plans, for brands and marketers, it is an important time now to adopt agile strategies to grab the customers' interest when they are most vulnerable to seeking. Additional challenges in the form of instant accessibility, and the availability of uninterrupted content, must also be overcome to appease the customer who is already used to these facilities. This is where the power of video marketing can be leveraged. It is no secret that the rise of video marketing is synchronous to the growth of mobile usage. With online video marketing becoming more available across platforms, marketers obviously sought out newer opportunities to boost conversion rates.
According to a study released by Brightcove, working with YouGov, Video is the most memorable form of content: 21% of consumers overall and 29% of millennials find video more memorable than other forms of content. Videos were ranked significantly higher than other forms of content such as display ads (13%), email marketing (9%), case studies (4%), text ads (2%), among others, which all ranked lower than 4% of overall consumers.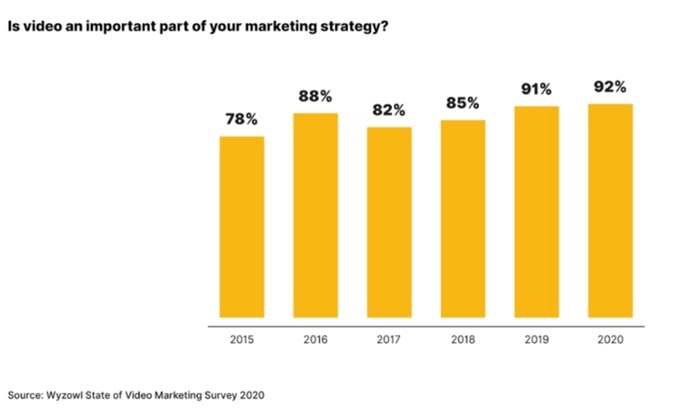 Focus your video marketing around the customer story:
Overall, video content marketing, over the past decade has dominated and even shaped the way consumers view brands. Video platforms are now ubiquitously used to market, educate, drive sales, tell life-changing stories, and much more. Now, with the availability of multiple platforms, marketing channels, and convenient access to create and distribute videos, the world has witnessed a meteoric rise in digital marketing videos.
For Companies
Studies show that more than 50% of the customers would want to watch videos than any other content. Video posts on Facebook have 135% more organic reach. Companies that use videos to promote their products, experience at least a 41% increase in traffic through web searches
*Courtesy: https://rdwgroup.com/blog/the-rise-of-video-marketing-everything-you-need-to-know
For Marketers
When compared to 72% in 2015, 92% of marketers in 2020 feel that video is an important part of their strategy. According to a report, 88% of video marketing initiatives provide them with the desired ROI. 99% of the marketers will continue using videos in 2020 and 95% plan to increase or maintain their spending
*Courtesy: https://www.smartinsights.com/digital-marketing-platforms/video-marketing/video-marketing-statistics-to-know/
For Consumers
66% of the customers prefer watching a video about a product. According to Google, 55% of shoppers refer to online videos in an online store
*Courtesy: https://marketing.sfgate.com/blog/video-marketing-trends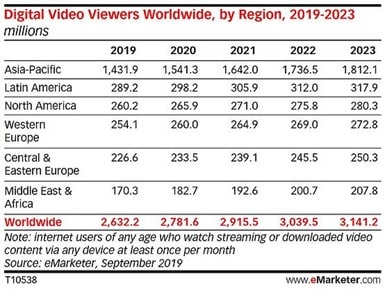 Popular video formats:
Shoppable videos:
Video shopping is made available to customers based on their interests or past purchase history. Product links to the company's website are displayed on the video, which can be accessed to get more information or simply make a purchase. These types of videos are hosted as YouTube marketing videos and promoted using social media platforms. U.K. fashion brand Ted Baker's shoppable ad titled "Mission Impeccable," is a great example. It follows a cast of characters dressed in the brand's new collection as they race to stop villain "The Needle" in his plot to undo the fashion world.
Vlogging:
A video log or a video blog, shortened to 'Vlog' is a great way to interact with your online audience and talk on a particular subject – it could be a tutorial, creative practice, or an artistic process. To create a vlog, you will need an interesting idea to be developed into videos that are professional and engaging. These are typically thought-provoking and state the problem you would like to resolve. Gary Vaynerchuk is a businessman, entrepreneur, author, motivational speaker, and the co-founder of Resy and Empathy Wines. He was also the first to build an eCommerce wines business. His vlogs are extremely articulate and personalized. Check out his channel at GaryVee.
Personalization:
Video content is steadily growing in popularity and importance. Parallel to the rise of social media, personalized video marketing is one of the most powerful and effective forms of content that has the ability to get the best possible ROI, especially when content is engaging and shareable. With personalized videos, companies can produce engaging content that resonates with their audience. Individualized videos can be structured in an unbelievably short period of time. A leading Middle East insurer, AFNIC, uses personalized videos to wish their customers on their birthday in a special way. Using customer data integrated into videos, they are able to deliver hyper-personalized video wish to each policyholder that looks like it's created just for them.
Interactive videos:
Many top brands are using interactive videos to engage customers and attain their digital marketing objectives. Linear or traditional videos can just be played with the click of a button. Interactive videos go much further allowing users to click, hover, gesture, drag, scroll, etc. to digitally interact with the video content. The video may include hotspots, 360o views, quizzes, and data inputs. In this interactive video from global ad agency Wieden + Kennedy, the video created for Honda is entitled "The Other Side," and it's a simultaneous experience of dual realities for one Honda driver.
Long-form videos:
Long-form videos will also continue to flourish as businesses come to realize the importance of using digital video marketing as part of their marketing strategies. Businesses continue to build trust amongst their audiences with the help of long-form videos where thought leaders and influencers drill down a message or explain a point of view using a detailed video presentation. Besides, every piece of video content has a valuable message or information to deliver through which, we can build a connection with the customer and gain loyalty.
The dawn of Personalised videos
Another trend, video personalization is about making a video made just for the seeker in you. It makes you feel special and allows companies to build a lasting relationship with the audience through experiences tailored just for their customers. While staying unique, it combines customer data and video templates to create personalized videos that address specific pain points or provides relevant contextual information to every user and influences them to take the desired action.
A video personalization platform can be leveraged to create these automated personalized videos that allow the recipients to view the information, at their convenience. With technology upgrades to personalized videos, interactive elements can be inserted into the video at critical junctures, to augment elements of personalization and create unforgettable experiences.
Every day customers are subject to several marketing campaigns, from which they are left to choose. The bigger challenge although is faced by the marketers and salespersons who must make their brand stand out in this melee and create memorable relationships.
Advantages of personalized videos
• Helps your brand get the customer's attention
• Click-through rates are better
• Better engagement
• Improved relationship building
Personalized videos in action:
For example. Selfanimate.com provides ready-to-use video templates that can be customized with personal messages, photos, and music or a voice-over to create personalized videos for any occasion, be it a house party video invite, a wedding video invite, a birthday greeting video, a housewarming video invite, or just about any life moments where you want to communicate in a special way to friends and family. And you can do all of these without having to download any app or software. Selfanimate allows you to do all the video customization online and render the personalized videos that can be shared on social media or directly.
Similarly, Selfanimate GoCampaign, a B2B platform– provides automated personalized videos targeting companies, and customers. You can integrate data or contextual information with video templates automatically to generate thousands of personalized videos that are triggered out to end recipients on SMS, email, or other app-based platforms.
Everyone likes attention and that's exactly what personalized videos do. They contain bespoke ingredients that ideally recognize the individual's need to be acknowledged through videos that captivate their imagination. Going further, personalization will combine creativity, analytics, and all elements of marketing that will seek inspiration from a single command post. Here is some contextual information that you can incorporate to make your video hyper-personalized:
• Place / Location – including city, country, or region
• Device used – such as the iPad, Android, iPhone, Windows, Linux and MACtaying close to your customers is the mantra during the pandemic
• Quality keywords
• Social media page
• Visitor frequency list along with the date and time of website visit
• Behavioural analytics such as navigations, pages, clicks, etc.
One of the brands that have seen some fantastic results through personalized video ads is Cadbury's. In 2014, they launched personalized video advertisements that used the customers' own content to propagate the brand.
Some of the other memorable personalized video campaign compilations worth a mention are:
Barclays

Raiffeisen Bank

Swiss Hotels

Axa Insurance

Personalized videos during the pandemic
With the pandemic, it is imperative to stay contactless and still carry out business. This also means contact events have to be converted to harness the power of the digital to get the desired results. The pandemic has allowed each one of us to turn videos into a common means of customer communication, engagement, and retention. AFNIC a leading insurance company in the Middle East, for instance, uses automated personalized videos to establish 'moments of truth' with customers by using personalized videos driven by Selfanimate GoCampaign platform. Policyholders were not just informed about the importance of insurance but were also offered appropriate information to renew premiums, leading to higher customer loyalty and conversions. View the video
Staying close to your customers is the mantra during pandemic days. Companies that navigate disruptions better often succeed because they invest in their customer and anticipate their behaviors. Every marketer is trying to tell the customer to choose products that are safe during the COVID-19 crisis. Everyone is busy alleviating fears and telling what is best for the customer. Personalized videos hold the power to calm everyone, boost confidence, and demonstrate safety standards.
A recent Forbes article shares some of the latest personalized video marketing trends
71% of consumers feel frustrated when a shopping experience is impersonal. – Segment
70% of millennials are frustrated with brands sending irrelevant emails. – SmarterHQ
74% of customers feel frustrated when website content is not personalized. – Instapage
36% of consumers say retailers need to do more to offer personalized experiences. – Retail TouchPoints
80% of consumers are more likely to make a purchase from a brand that provides personalized experiences. – Epsilon
72% of consumers say they only engage with personalized messaging. – SmarterHQ
63% of consumers will stop buying from brands that use poor personalization tactics. – Smart Insights
98% of marketers say personalization advances customer relationships. – Evergage
89% of digital businesses are investing in personalization. – Forrester
88% of marketers say their biggest driver in personalization is to deliver a better customer experience. – Evergage
Ironically, the pandemic has been gracious – digital marketers are now learning more than ever that customer relationship are important and how crucial direct marketing strategies are, to build brand engagement even if it meant that the customer is not interested in a particular product or service now. Personalized video marketing when driven by data, can be successful only if you have the right data that can be used. Enterprises with siloed data sets and their inability to locate the right data can hamper video personalization efforts.
The depth and lasting impact of the pandemic, along with the sharp economic downturn, signal a long and challenging road to recovery.
According to the "2020 Edelman Trust Barometer Special Report: Trust and the Coronavirus.", the actions of brands during a crisis can make or break long-term relationships with consumers. It's a critical time to remind consumers why they should choose your brand and there is no better way than hyper-personalized video marketing.
Disclaimer – 
This blog post is only for information sharing and the references provided are not Selfanimate property and we don't claim them. This blog post is not a part of the below mentioned websites. Additionally, this blog is NOT endorsed by the following companies in any way.
Brightcove, YouGov, Segment, SmarterHQ, SmarterHQ, Retail TouchPoints, Epsilon, Smart Insights, Evergage, Forrester, AFNIC, edelman.com, GaryVaynerchuk, spott.ai, sfgate.com, rdwgroup.com and smartinsights.com