Getting married is such an exciting time. Whether you've been together for six years or six months, it's fun to imagine what your perfect wedding day will be like and start planning all the details with family and friends.
Whilst some people opt for small, intimate ceremonies, many of us see a wedding as an opportunity to invite all our loved ones to celebrate with us. With an average of 524 guests at a modern-day Indian wedding, that's a lot of food and accommodation to organize – and a challenge for even the most adept event organizers.
As a result of this mega planning, being eco-friendly might not be at the top of your priority list, especially if you need to get things booked, quickly. But as you begin to plan your big day, it's important to keep in mind that weddings can generate a lot of waste. From paper invitations to plastic decorations, weddings often generate a significant amount of environmental pollution. The average UK wedding produces around 20kg of plastic waste, amongst a lot of other waste including food, flowers, and more, according to sustainable wedding guides. According to NGO Feeding India, 10 to 20 percent of the food served at Indian weddings goes to waste contributing to annual food waste, worth about US$14 billion in losses.
However, there are several ways to reduce the environmental impact of your wedding without sacrificing style or quality. If you're interested in being eco-friendly and reducing your wedding's carbon footprint, there are a few things you can do including:
Choose an online wedding invitation
One simple way to reduce waste from the start of your planning is to send digital or online invitations instead of printed, paper invites. This not only saves trees but also reduces the amount of energy and water used in the production process. In addition, online invitations can be easily shared with guests via email, WhatsApp, or social media. As a result, they provide a more efficient and eco-friendly way to invite guests to your special day.
Selfanimate, the online video maker, is an ideal destination for ready-made online wedding video invitation templates. Irrespective of the religion or state, they are a large library of professionally designed wedding templates that you can edit and use. Check out some of the latest wedding invitation video templates on the Selfanimate website.
Elegant engagement video invite template

Save-The-Date invitation template

Wedding invitation video template

Opt for reusable decorations
Try to use decorations that can be reused or recycled. Consider using potted plants instead of cut flowers. You could also use vintage items or borrow decorations from friends instead of buying new ones. When it comes to taking everything down, donate reusable items to a local charity or resell them online.
If you're looking to save money and reduce waste, you should also consider renting your decor instead of buying it outright. This is especially helpful if you're planning on having a destination wedding, as you won't have to worry about transporting everything back home with you. You can find companies that rent everything from chairs and tables to linens and tableware.
Have an eco-friendly bouquet and centerpieces
As mentioned, your bouquet and centerpieces are a great opportunity to be eco-friendly. You could have a DIY floral arrangement using locally sourced flowers. You could also use plants or succulents that can be replanted after the wedding. If you go this route, make sure to provide instructions for care so your guests can enjoy their gifts long after your big day.

Skip the favours
Wedding gifts are a nice gesture, but let's be honest – most of them end up getting left behind or thrown away. If you really want to give your guests something, opt for something edible that they can enjoy right away, like gourmet chocolate or locally-made jams and jellies. Or, you could donate to a charity in their name instead of giving them a physical item.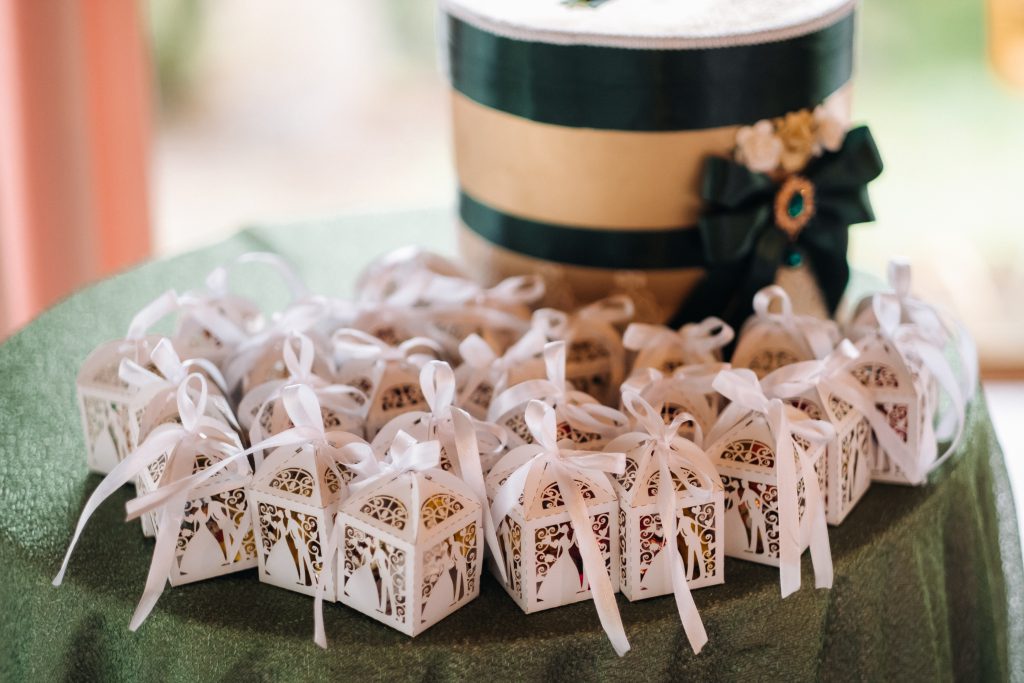 Use local vendors
When possible, try to use local vendors for your wedding services. This includes things like catering, flowers, photography, etc. Not only will this support businesses in your community, but it will also cut down on emissions from transportation since the vendors won't have to travel far to get to you.

Having an eco-friendly wedding is a great way to reduce waste and help the environment. There are many easy ways to incorporate sustainability into your big day. With a little planning, you can have the wedding of your dreams while reducing your carbon footprint.