It's here. It's Holi.
Holi marks the beginning of the Spring season. It begins with the (Hindi) month Phalguna. It's India's festival, a global carnival. A boon to end discrimination and prejudices against castes, creed, and faiths. Burn our vices with the Holi-ka-dahan. Shine bright like the sun.
Here comes Spring. Cheer up! Blossom with the new season. Jump up to new beginnings.
Triumph over gloom. Good winning over evil. Wish wars and viruses would be gone.  
Let's play outdoors for a while.  Let's play responsibly. Armoured with guns fully loaded with colours and water. Food, music, and dear ones to rejoice together.
Plan new and novel ways of fun and frolic this Holi season. A festival to cherish for times ahead. These are things that none can miss. It's time to make up for the lost time and rediscover happiness. Let's celebrate together and take it further.
Explore new places: When the whole world pours around

Mathura

,

Vrindavan

or

Delhi

. Plan your trips well ahead. Don't miss on the essential paraphernalia. Obviously, attire, music, and food.

Invite families & friends: Reverberate the joy of Holi in the company of family and friends. If going places isn't working, bring your clan together, be it outside or inside your city.

Spend time with the elderly: Often we miss to include the elderly in our festivities and celebrations. Their yearning to be part of the fun is often ignored leaving them with an air of melancholy surrounding them. This year make the change. Have a

meal with mom

or dad.

Maa ka sang khana

is not just for our prime minister to do but all of us can too.

Spend time with those in need: For the philanthropist in you, it is heart-warming to celebrate with those people who aren't having a family for themselves.  Donations to charity, makes us feel happy within. Help those in need of love, care and commodities.
Whatever may be your choice to celebrate this Holi, leverage technology and go digital. Do not be selfish to celebrate within the confines of your four walls. This year is different too, technically.
Ring in the Holi mood by creating customised digital Holi greetings, invitations and online video invitations, enriched with pictures and visuals that speak a thousand words. With what you share, make all your family and friends, see that you care.  Cherish this Holi for years to come. Plan your skypes, zooms and google meets. Upgrade yourself, to be the techno-savvy. Share your joy and the festivities, over WhatsApp, Insta, Facebook, etc.  
At Selfanimate, the best online happy Holi video maker, we have burnt the midnight oil to combine state-of-the-art online video-maker technology, and emotionally connected ready-to-use Happy Holi video templates. We made online greetings and invitations a child's play for you. Now, you can create customised video greetings, combining photos, music, and text, in just a couple of minutes. Telling our folks that we care, is made so easy and effective. Share them over WhatsApp, Facebook or Instagram.
Choose from our most popular templates to make a custom Holi Greetings Video.
Happy Holi greetings with a logo: Check out the template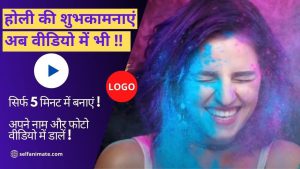 Appreciate employees and customers with corporate Happy Holi greeting: Check out the template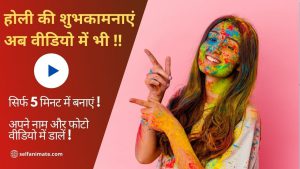 Heart-to-Heart: Create a Happy Holi wish video for the entire family: Check out the template