With Navratri knocking on the door, this auspicious occasion brings all the joyous memories spent with family and friends. From colourful dresses to dancing to the beats of Dandiya and Garba, it embodies positivity and breaks the shackles of negativity around us. With nine nights to celebrate the fight of good over evil, Navaratri has its joy and rhythm. For most of us, the Navratri celebration is to immerse ourselves in merriment with friends and family members, which is why this festival is perfect for a get-together.
Looking back into the glorious history of two popular dance forms – Garba and Dandiya, both originated in Gujarat. Performed during Navratri these dance forms invoke the dramatization of the infamous nine-day fierce battle between the demon king Mahishasura and Goddess Durga, in which Goddess Durga emerged victoriously.
Tips on how you can celebrate Dandiya and Garba with friends and family:
Like all other festivals, Garba and Dandiya celebrations would be more memorable when the festivities are shared with your loved ones. But easier said than done, Navratri gathering requires meticulous planning and arrangements to make you the perfect host for the blessed occasion.
Dress according to the occasion – Dressing appropriately is the most obvious and stated norm regarding any festivity. Dandiya and Garba come with specific dressing codes – The Garba costume comprises a three-piece – the choli, chaniya, and an embellished dupatta. The men wear a kediyu with kafni pajamas and a pagdi or turban. In Dandiya, women wear ghagra, choli and odhni. Men wear traditional dhotis and kurtas. Embroidery and mirror work are added to the attire to make it more vibrant and lively.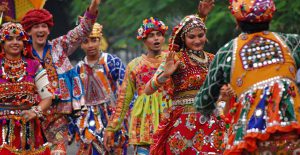 Decorate your house – You can begin with a rangoli at the entrance with color powders, and even flowers. Make your living room and dining hall lively with proper table cloth and decorative pieces. Also, you can tune up the environment with light devotional music. In the case of the house party, the background music of Devi aarti would add to the life of the room.
Invite your family & friends to celebrate together – No one wants to dance alone, especially in Dandiya and Garba. Call your close ones and dance your heart out to seek the blessings of Devi Durga.
Organize a perfect get-together – Don't just call your family members and friends, create a perfect occasion for them to have a memorable time with you. From having the right attire to appropriate folk music, food catering, and lighting arrangements – you need to take care of it all.
Plan on inviting your guests in advance:
Arranging an event takes preparation, planning, and flawless execution. Meticulously prepare the guest list, and invite them well in advance so they can plan accordingly. Lastly, make sure you send them a reminder.
A good place to start is the Selfanimate online video maker. Scan through the creative online garbha video invite templates from Selfanimate's curated list of video invitations and choose the one that fits your taste. With a plethora of edit options and easy-to-create functionality, you can create a stunning Dandiya or Garba video invite in minutes. You can invite your guests by sharing the customized Dandiya or Garba video invite on WhatsApp or social media, and create an impact even before the actual event.
Checkout the Dandiya and Garba video invitation templates on Selfanimate

Wrapping up:
We are all set for Garba after two years of the pandemic. The essence of this festival is the warmth and togetherness that it brings as family, friends, and loved ones come together for celebrating Navarathri with joy, love, and devotion.
If you're planning a Dandiya or Garba event, Selfanimate helps you add a personal touch to your Dandiya night invitation. Selfanimate can customize the video invite with your specific requests, logos, or ideas. Just contact them using the EDIT FOR ME feature in the video template editing steps or email them with your request.